Santa Barbara Wine Country Cycling is committed to providing excellence in service, ensuring that your cycling tour exceeds your expectations. Our  local, professional crew of cycling, hiking and lunch staff enjoy sharing our beautiful part of the world with you during your stay with us.  This is why we are so proud of our continued success treating customers just like family.  Don't just take our word for it – peruse the feedback below from some of our guests to see why we strive to be the best in class.
Feedback from our customers
May 2017
Thank you SB Wine Country Cycling,
Just wanted to drop a line and thank you and especially Neil for an amazing experience on our bike ride, that day was the highlight of our 3 day stay in the Santa Ynez Valley.
Thanks again, and keep up the good work.
Shay Tal, Los Angeles, CA
---
March 10, 2017
I've been meaning to send this along since our wonderful tour with Neil and Santa Barbara wine country cycling tours.
Ursula and I had a blast, thanks in very large part to our capable and interesting guide. Please share this with him if you would and be ready for our call next year when we return.
Jim,
Phoenix
---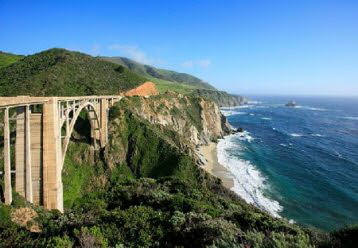 January 4, 2016
Corey,
The kayaking was great. We saw some Grey whales and orcas, what a treat. The whole trip was awesome.
I have told some friends and neighbors about what a great job you did putting the whole trip together and they will be call you to plan their trip.
Everything from the Inn, biking, hiking was just great. We could not have asked for anything more.
Happy new year and thank you for all you did to make my family's trip such a success!
Ken
---
Tuesday, May 12, 2015
Hi - My sister and I went on a guided hike this weekend on Mother's Day. Jamie was our guide.
The tour was AWESOME!!! Thank you so much for setting us up with her. Jamie was so great - like a friend and extremely knowledgeable.
Please tell her thank you for us!
Erin Szajna & Kathryn Dierks
---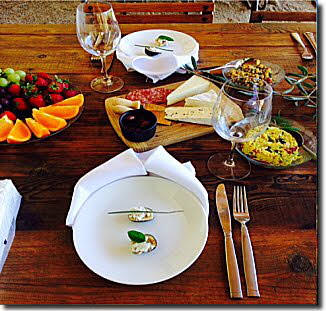 Sunday October 14, 2014
SB Cycling Tours,
Thank you from all of us for a marvelous and personalized introduction to this lovely countryside and terrain.
Everyone commented that it was the perfect getaway. The guides added to our enjoyment tremendously and the lunches were fabulous… Plus the Pinot was as described!.
Thanks for the spectacular time.
The Rynbrandt Gang
---
July 28, 2014 - Fabulous!!!
The Hall family wanted you guys to know what a blast we had on our 3 day cycling tour through the Happy Canyons of Santa Ynez. We all loved it!
It was first rate- the guides were informative, considerate and fun! The trip was well planned, we loved all the side tours to the wineries, lavender farm, and olive oil tastings. The restaurants were superb- our favorite was the Vineyard House. The owner was a great guy that we enjoyed talking to immensely! The lunches provided by Sarah were so good!! Hadsten House was very nice too. Anyway, we moved onto LA for three days, and ended our trip with 4 days in San Diego. But we all agreed that the bike trip was our favorite part of our California journey.
Thanks so much for a wonderful vacation
Kevin
Boston, MA
---
July 28, 2013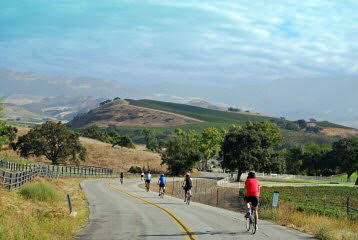 Hi Corey,
It was so nice to receive your email and of course the surprise bottles of wine. We will enjoy them after a great day of riding back home. Thank you for both.
We certainly enjoyed the last day and the opportunity to ride with you and your team. That last hill was awesome to ride -- although I could have done without the rattlesnake I had to swerve around!
We have been on many bike trips in the last few years and we all agree that your outfit is top notch. Your bikes and service were impressive and having the opportunity to visit your vineyard really was special and we so appreciate you sharing your little piece of heaven with us (although the men were hoping for a surprise visit from Bo!) Working with you and Doug in the planning phase was a pleasure -- surpassed only by the riding and perhaps Tricia's lunches or Doug's stories.
Safe riding and, if we come back to the area you will certainly hear from us! Some of those rides out to the coast look like fun and we do need to make it to the top of some of those climbs.
Thanks again and please pass on our sincere thanks to Chris, Corey, Brad and of course Tricia.
Regards,
Laurie and Michael
---
April 8, 2013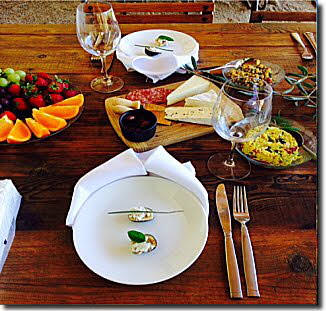 We have cycled with the three dominant cycling /touring companies in venues around the world. We discovered Wine Country Cycling Tours. when we realized our prior companies weren't available for our visit to Santa Ynez, and we were NOT disappointed.
Tim & Corey have put together a friendly, knowledgeable staff with cycling ability to accommodate casual to accomplished cyclists. We opted for the bike upgrade, and it was worth it.
Our bikes were top of the line carbon fiber - the best bikes we have ever, ever ridden on a trip! And the lunches were phenomenal. Each day was at a lovely, unique venue. Tim's staff accommodated our challenging dietary needs to the MAX. Our meals were beautiful. abundant, delicious and healthy. We loved the area so much that we already booked another visit in September.
We strongly recommend www.winecountrycycling.com to anyone visiting the area. They are a first rate, family-owned business. You will NOT be disappointed.
Sincerely,
Billie and Roy Messer
Lake Toxaway, NC
---
January 1, 2013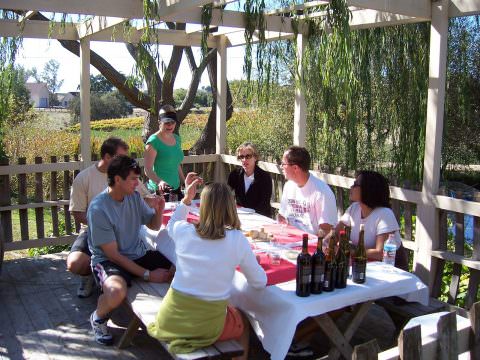 Dear Tim and crew,
I wanted to thank you for organizing such a great day for us! Out group had a blast and will have memories of that bike ride for years to come! Neal and Dominick were terrific!!!! It was just perfect.
Thanks again. Happy new year!
Jen and friends
---
October 29, 2012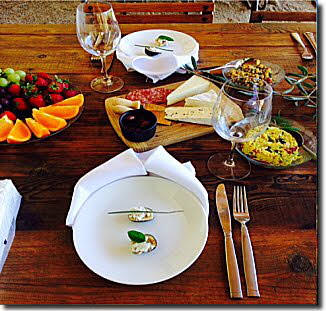 Tim,
Julie and I want to thank you again for the delightful experience last week with Santa Barbara Wine Country Cycling Tours. We had a terrific and most memorable time with you and your team. The hotel accommodations were great, the cycling routes very well chosen, the bikes were perfect for us, and the lunches were superb. We simply could not have asked for more.
Please pass along our thanks to Chris, Nills, Susan, and Trishe. They were wonderful; we greatly enjoyed our time with each of them. We hope to someday be back for another tour! And we'll certainly tell our riding buddies about your fantastic company.
Rex and Julie Adams
PS. Remember the badger we saw on our ride back to town on Tuesday? You were right: the Badgers are University of Wisconsin, and the Wolverines are U of Michigan. My 10-year old souvenir from Madison, which I accurately recalled and which fueled my recollection, has a "W" on it – go figure!
---
August 22, 2012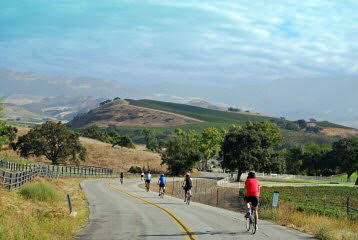 Hi Tim, I just wanted to take a minute to say how thankful we both are for you and your staff. As always, we had a wonderful time riding in your little corner of the world.
Please take a minute to pass along our gratitude to all who made it such a special weekend.
Sue (your better half) who shared both the tomatoes and Lemon Cucumbers from your garden, and for honking when passing us by; even though I clearly had my hand in the air, requesting the "Team Car" to come alongside for new water bottles; grin.
Sue P. for her outstanding work relocating our lunch on short notice. and for bringing really, really cold water. and a fantastic picnic lunch.
Chris, for his patience and great attitude while pulling us along those last few miles and helping to stop the onset of heat exhaustion.
Steven for his simple pedaling style that kept us moving to the end. even if he decided some race was more interesting than riding with a bunch of week-enders.
Quinn, well he's just an animal.. not ever even breathing hard.. damn I hate that youth thing. 🙂
And finally, to you for your excellent riding company and the sharing of the wonders of the valley and enlightenment to such things as the geology of the region and the vagaries of how the micro-climates affect the grapes. of course.
It would have been nice to grab a bottle of the '09 vintage of yours to keep our collection complete.. but there is always next time. grin. Simply put we had a great time, and look forward to coming back as soon as we can.
Thanks for everything! -- Karen & Jerry
---
July 15, 2012
Hi Tim, We just wanted to let you know that we had a great day, on day one of our four day vines to coast tour. Great job by Steve. He was a really nice guy and we look forward to riding with him on Saturday.
Susan had a fantastic lunch for us at the Bridlewood Winery. My sister, Karen commented that it was probably the nicest lunch she has ever had touring. Karen and my brother-in-law Scott have traveled the world extensively, so this is a big compliment for Susan and your company.
The Santa Ynez Inn is spectacular. Although built in the 1981 it has all the character of a building built 100 years beforehand.
Overall we are very pleased with the experience and would highly recommend your company on Trip Advisor.
We are off to dinner, then relatively early bed time as tomorrow is another day. Cheers and best wishes,
Doug
---
April 25, 2012
Hi, I just wanted to take a moment to thank you guys for the great afternoon we had with our rentals on Monday 4/23.
We were very pleased with the time you spent helping us get set up and outfitted for just 1 afternoon. I know this wasn't a big money-maker for you, but you treated us like we were spending a million bucks, and we appreciated it. We had a great time on the Happy Canyon loop, and only regret that we didn't have another day to do some more. But whenever we make the trek there again from Alabama, you can be sure that we will be back again for a little longer, and we will be in to see you.
Thanks also for letting us leave the bikes with the restaurant across the street so that we could have a little longer riding. The proprietor of the restaurant was great when we arrived, and escorted us back to your store to leave the bikes inside. The bikes were top-notch and we had no problems at all.
We had a great dinner afterwards at Dos Carlitos, a perfect ending to a perfect afternoon. Thanks again, just wanted to compliment you on your great service and employees.
Ed Hoenig, Cullman, Alabama
---
February 14, 2012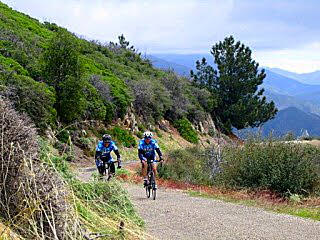 Tim & Corey
Thanks for everything. Great meeting you and spending time in the Santa Ynez Valley. We all had a great experience. I can't speak highly enough of Nils. The level of service he provided surpassed our expectations. His knowledge of the area really helped us adjust routes on the fly and prepare us for roads ahead (e.g. Drum Canyon descent). He treated us like Pros and that was much appreciated.
We all had a great week and the trip was certainly worth the hardship of leaving work and family behind. It is a great value even with only a party of 6.
I think our week is a great template for weekly training camps for road racers /riders. There are lots of us who train through winters back East who might find it quite appealing. I don't know if you've ever marketed to this crowd, but I would suspect there would be many other riders interested in a winter training camp in the Santa Ynez Valley.
Take care and thanks again!

Josh Davison
Philadelphia, PA