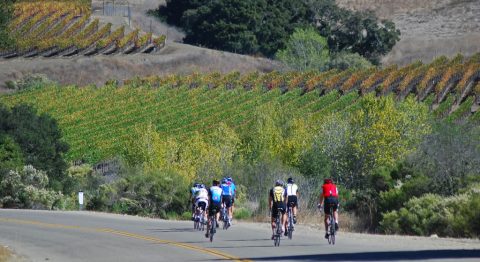 Moderate to strenuous with some climbing. Distance: 45 miles roundtrip (shuttle available after lunch)
This intermediate route begins with an easy warm-up ride into Los Olivos before the first short climb on Foxen Canyon Road. There are two climbs, the second is a long circuitous road through a canopy of oak trees with views of the San Rafael Mountains at the summit. The descent follows the Sisquoc River Valley passing rangeland, expansive vineyards and the picturesque San Ramon Chapel built in 1875. Farm-to-table vineyard lunch is at Zaca Mesa Winery, a secluded vineyard tucked away in the hillside and surrounded by walnut trees and grapevines. Lunch is followed by a tasting of Rhone varietal wines. After lunch, tackle two short but steep climbs before you pedal back into town and then over Ballard Canyon to our store in Solvang. Shuttle service available to transport purchased wine and/or tired riders for the return back.
$225/person including lunch.