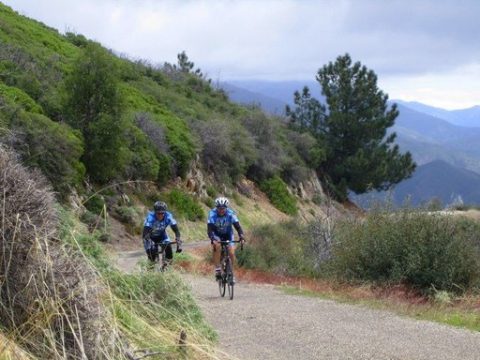 Distance: Approx. 45-50 miles.
Level of Difficulty: difficult to strenuous
This h'ors cateorie climb is the most challenging ride in Santa Barbara's  wine country.  Figueroa Mountain boasts 4350 ft of climbing with inclines as steep as 12-14%. The 10 miles of steep climbing include a mile and a half of dirt before reaching one of the highest paved summits in Santa Barbara County. Professional cyclists have been training in the Santa Barbara wine country since the 1970s. This ride is a great example of how our region compares to the steepest ascents in the Tour de France; making it an ideal place for the pros to train. The descent starts above tree line and follows a technical and narrow route into Los Olivos. Springtime on this particular road is a spectacle of orange poppies and purple lupine. Our signature lunch is served in a quaint park in Los Olivos complete with bocce ball court followed by a craft beer across the street at Figueroa Mountain Brewery. This ride is available as either a loop (10 mile climb with some descents) or 'climb & down' ride (9.5 mile climb / descent, steeper grades than loop climb). SAG Vehicle provided. Additional mileage available upon request.
$250/person, min of 2 riders